Merchants of Jalan Surabaya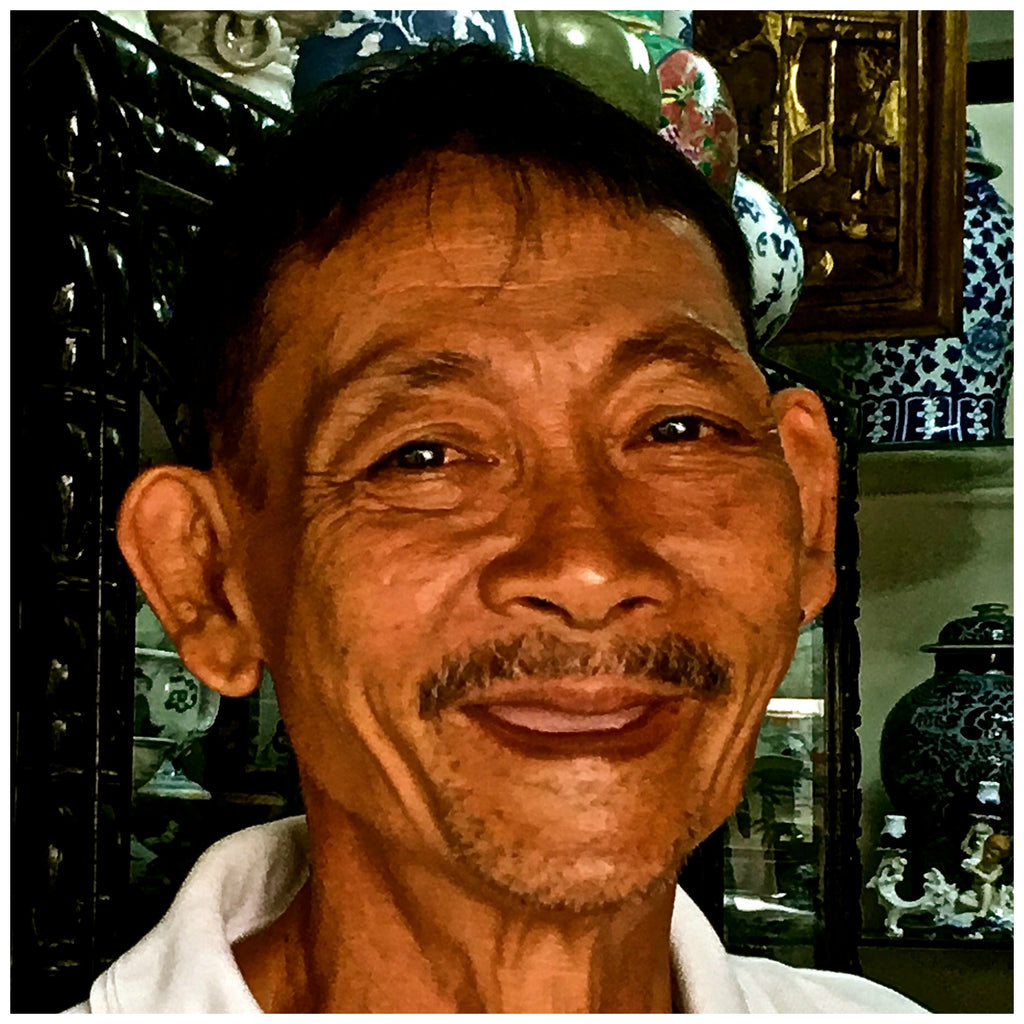 Asep: by my side as I shop
Asep greets me early each morning with a toothless smile. His nickname is 'Baby'. I cringe each time someone calls him by this name. I am embarrassed. He is not. We work well together even though he speaks very little English. He anticipates my next move and knows whether to hand me a tape measure, a notebook, an index card or an object placed awkwardly on a high shelf in the crowded shop. He insists on carrying my backpack and helping me as I select and inspect each piece. The merchants welcome his assistance and his infectious laughter. 
From one shop to the next, merchants greet me with a welcoming smile
Most of the people along the street are familiar. There are some that are not. To them, I find out Asep introduces me as "a dealer who exports to America." To a younger merchant he explains that I am his father's longtime customer. It is heartwarming to see a business stay in the family - I love tradition!
Smiles come in all forms and I appreciate each one
More smiles along the way
Selling 'silver' coins from his pouch
I see him periodically throughout the day. He uses a cane as he walks with difficulty up and down the street. His eyes are covered with a milky glaze. The merchants are respectful and welcome him to sit wherever he wants. He holds out his hand grasping a fistful of coins. As I pass, he extends his arm towards me. I stop to see what he is selling. Asep gestures how much to pay. I pay without negotiating. I take the three coins, smile and enter the next shop.  
The one and only female merchant
Calling the 'boss' to help negotiate and finalize the deal
Where's the boss? Playing chess near the food stall? Working at his other business? Or, perhaps, resting at home? In any case, he is only a phone call away. I am interested in several items and he is eager to complete the deal. Success - a win-win for all! Now, on to the next stop. 
 One of Asep's many friends
Exhausted: working long hours for ten days
Asep asleep? Asep not smiling? This is the first time for both - ever! Yes, Asep and I go back many years. He never complains about anything - neither his two hour commute, nor the loss of his shop on Jalan Surabaya. He continues to buy and sell. He is a merchant.
Thank you, Asep, for a very successful trip! 
Until next time..... 
Debra Levine