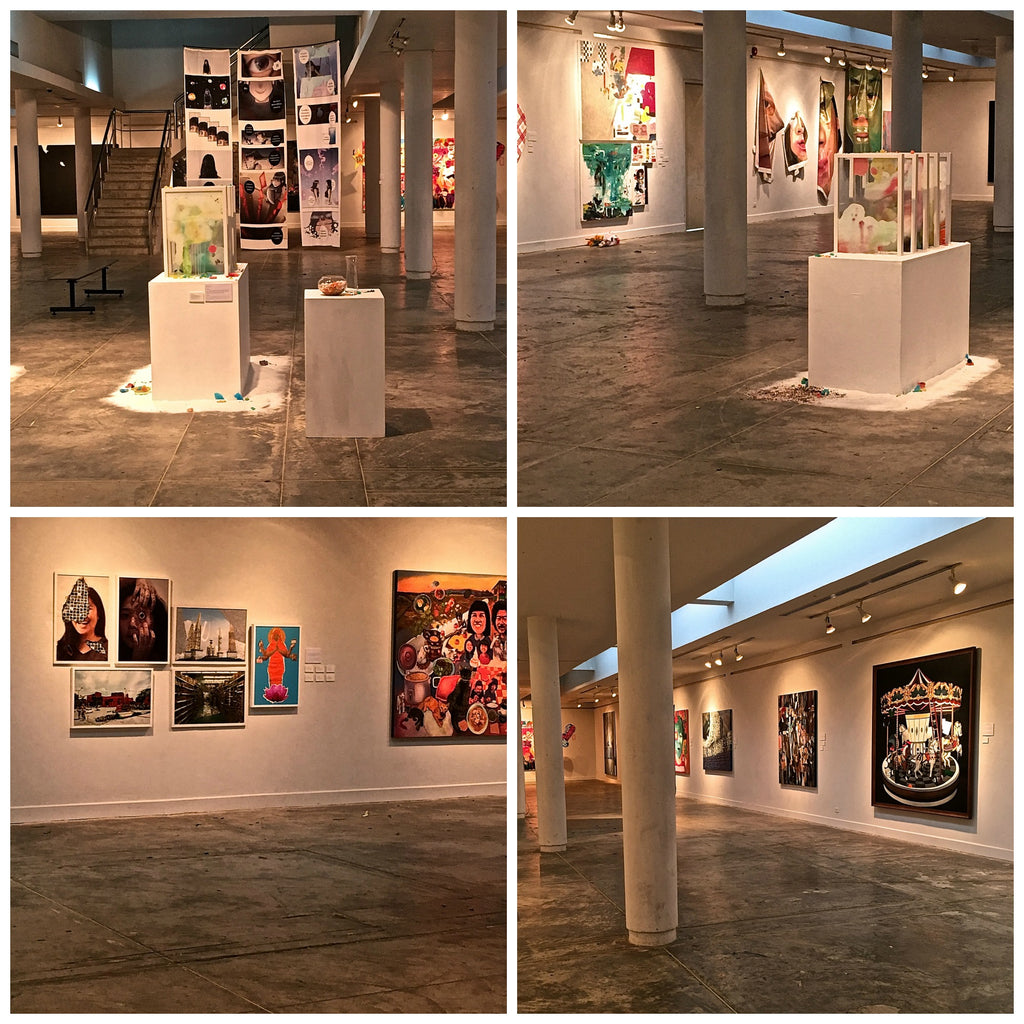 CMU: Painting Thesis Exhibition


Leaving behind all expectations, I enter the intimate gallery at Chiang Mai University with an open mind eager to view the fifth year students' works. Immediately I notice the pale rose petals sprinkling the floor. Are they part of the exhibition or left over from the opening party the night before? In either case, I appreciate the added memorable touch.
Alone, I walk slowly from piece to piece capturing an overview before returning to observe each presentation in depth.
As I read the artist's concept for their piece, I am aware of the underlying malaise in the space. A subtle beat of turmoil grows increasingly louder as I methodically view the exhibition. 
There is a preoccupation with life and the future that is to come. It is through their paintings they reveal with a blatant honesty their fears and anxiety.   
It is obvious that each student delves into a world of raw introspection in an attempt to attain personal insight and a sense of understanding. There is a concern for the future and an uncertainty about what lies ahead.
Throughout frustration, disappointment, and suffering, they continue to speak of hope and beauty. Their paintings provide a focus and an avenue towards comfort, appreciation, and purpose. 
They paint to heal and it is through my lens I see their worlds. I fragmentize each painting and create collages in order to interpret their works and discover the meaning pulsating behind their words and onto their canvases. 
I empathize with their concerns for the future and do not minimize their pain or angst.
I hope you appreciate my collages and images below: 
Interpretation | Culture Jamming | Pain - Loss - Hope | Awareness


Artists:
Nakarin Punyawong - top left
Kiettichai Shimizu - top right
Kamonmas Manorin - bottom left
Rinrada Boonchuaymankong - bottom right


Media + Sexuality | Introspection | Contradiction + Anxiety | Relationships


Artists:
Supitcha Kingnawk - top left
Walunchita Chunoon - top right
Chonticha Maneegam - bottom left
Autsadang Puntusawasdi - bottom right



Parenting + Technology | Delusions | Limitations | Self Comfort
Artists:
Kullamas Bangleang - top left
Wasinee Reanracha - top right
Waranya Pongpetch - bottom left
Jidapha Wannalee - bottom right




Reflection | Culture Invasion | Inequality | Discomfort
Artists:
Pawared Limchalerm - top left
Rungtiwa Boonma - top right
Piyamon Yeangyong - bottom left
Montakan Sangchan - bottom right




Social Isolation | Coexistence | Social Media Mania | Contemplation 
Artists:
Thanjira Tapparod - top left
Kussalin Pranpanichakit - top right
Tanaphon Pantanan - bottom left
Sukonthip Pimparian - bottom right




Monotony
Artist:
Darete Somsri




Artificial Temptations
Artist:
Kultara Robchana
Debra Levine