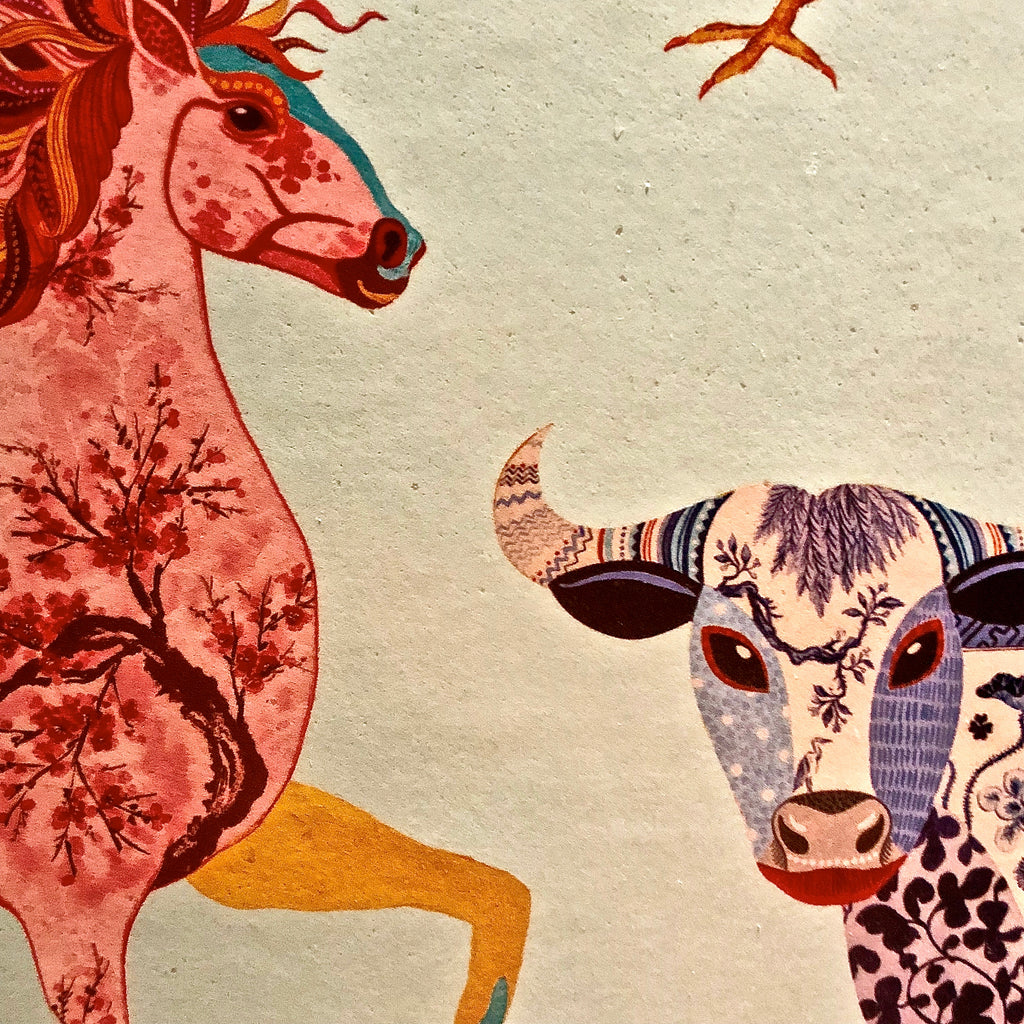 LUCKY Exhibition - 12 Animals of the Chinese Zodiac by Chris Chun
Chris Chun captures the animals of the Chinese Zodiac in his own personalized style which is always captivating, refreshing, and exquisite. While Chris curates the exhibition left to right in the traditional order of the Chinese Zodiac: Rat, Ox, Tiger, Rabbit, Dragon, Snake, Horse, Sheep ( Goat / Ram ), Monkey, Rooster, Dog, and Pig, I use artistic freedom to interpret and present his paintings in a collage format. "Through My Lens"
Below are three collages representing the "LUCKY" exhibition. While each painting is delightful and powerful in its own right, I include Chris's thoughtful explanation of his inspiration behind creating each animal of the Chinese Zodiac. This added commentary provides a better understanding, not only of Chris, but also of each painting. To understand his motivation allows for a deeper appreciation of his work.
Yes, Chris is a talented and prolific painter, but he is also an excellent designer and creative director. From conceptualization through to execution he definitely stands out as a shining star.
Goodbye Year of the Dog 2018 ..... Hello Year of the Pig 2019!
Which animal are you? Chris is a Pig.


PIG: 1947. 1959. 1971. 1983. 1995. 2007. 2019
"I was born in the Year of the Pig so this could almost be considered to be a self portrait. A cheeky smile, a little bit chubby and alluring brown eyes. In Chinese culture, chrysanthemums are a symbol of joy and a wish for peaceful retirement." Chris Chun
SHEEP: 1943. 1955. 1967. 1979. 1991. 2003. 2015
"The sheep is soft and fluffy: almost cloud like which is why I painted this animal in Chinese clouds. The cloud is a popular motif in Chinese culture and when repeated in a pattern, symbolizes never-ending fortune."
Chris Chun
TIGER: 1950. 1962. 1974. 1986. 1998. 2010. 2022
"Tigers are really just big pussy cats so I wanted to make my tiger strong but still friendly. The bamboo symbolizes the ideals of a Confucian scholar because both are perceived as upright, strong and resilient while still being gentle and graceful like the tiger."
Chris Chun
ROOSTER: 1945. 1957. 1969. 1981. 1993. 2005. 2017
"My rooster may be proud and colourful but he still has the rhythm and movement of a dancer. His rainbow-hued feather tails create flowing movements through the air and are reminiscent of the Chinese Ribbon Dance."
Chris Chun
Which animal are you? Chris's mom is an Ox.
DOG: 1946. 1958. 1970. 1982. 1994. 2006. 2018
"2018 was the Year of the Dog so I went dog crazy painting lots of different dogs. My French bulldog thinks he rules the world so I thought it is fitting that he should be dressed in traditional Chinese noble attire, fit only for the Emperor."
Chris Chun
DRAGON: 1940. 1952. 1964. 1976. 1988. 2000. 2012
"My dragon is inspired by my first trip to the Forbidden City in Beijing and seeing the Nine Dragon Wall. He has 5 talons; traditionally only dragons painted for the emperor or high nobility had these. I also paid careful attention to the placement of my dragon as it is considered bad luck to have a dragon facing downwards."
Chris Chun
OX: 1949. 1961. 1973. 1985. 1997. 2009. 2021
"I thought of my Mum, who was born in the Year of the Ox. Always dependable, hard-working and very wise. I wanted to do something classical and elegant which is why I was inspired by Chinese blue & white china. The goldfish provides not only a whimsical touch, but they are also a symbol of good luck and prosperity."
Chris Chun
MONKEY: 1944. 1956. 1968. 1980. 1992. 2004. 2016
"My monkey is based off the Monkey King, a revered character in Chinese folklore. Sitting on a branch with a lucky peach, this painting symbolizes longevity and the wood from the peach tree is also believed to ward off bad spirits."
Chris Chun
Which animal are you? Find out as you delve into the Chinese Zodiac.
RABBIT: 1951. 1963. 1975. 1987. 1999. 2011. 2023
"Flowers are one of the greatest joys of life (and incidentally one of my favourite things to paint.) I thought it would be interesting to paint the rabbit in an abundant background of flowers so that the unpainted areas become the silhouette of the rabbit."
Chris Chun
RAT: 1948. 1960. 1972. 1984. 1996. 2008. 2020
"Rats are not the most attractive animals which is why I painted them with flowers. The rats are painted beneath a giant red poppy flower which represents peace, beauty and success. There is also a charm of lucky coins tied to one of their tails."
Chris Chun
SNAKE: 1941. 1953. 1965. 1977. 1989. 2001. 2013
"The inspiration for the snake was from the decorative handicraft of Chinese Knotting. I love the variety of shapes and complexity of the different knots and tried to capture this in the movement of the snake."
Chris Chun
HORSE: 1942. 1954. 1966. 1978. 1990. 2002. 2014
"People born in the Year of the Horse are never one to surrender so I wanted my horse to be defiant and energetic. With a flowing ribbon-like mane and powerful stance, she is as beautiful and strong like the cherry blossom tree. A symbol of love and passion."
Chris Chun
Exhibition Details:
Title: LUCKY - 12 Animals of the Chinese Zodiac

Artist: Chris Chun
Place: Anantara Chiang Mai Resort

Dates: February 1 - March 15, 2019
Congratulations, Chris - an exhibition well done!
Thank you for bringing Good Fortune, Health, and Happiness to all!
Debra Levine