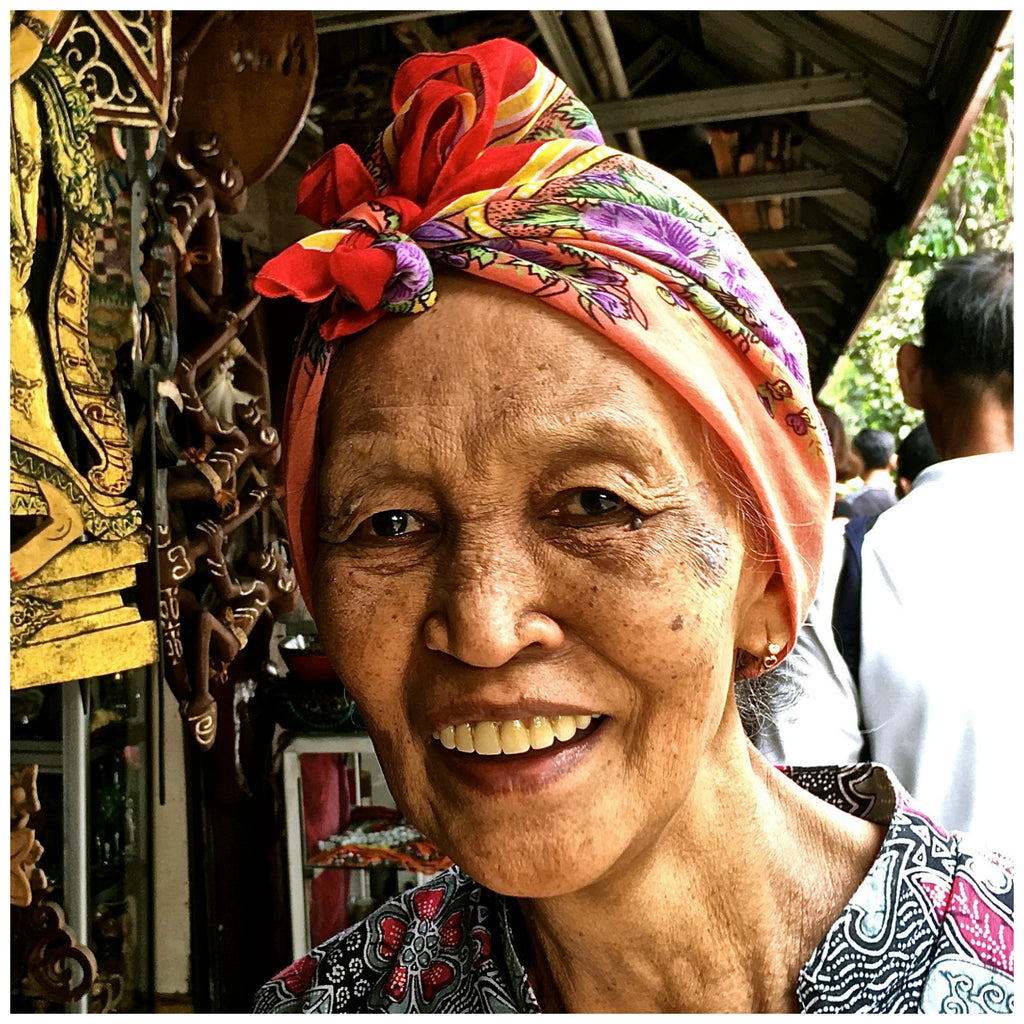 Female Merchant - Jalan Surabaya
A Smile Remembered
Shopping the market on Jalan Surabaya in Jakarta, Indonesia, is exciting, rewarding, and without exception, challenging. I begin in the early morning with dealers who agree to meet me before the official opening, and others stay to work past closing. Time is limited, so we ignore the sun's pounding blistering rays and remain undeterred by a sudden torrential downpour.
Throughout the years of buying on this street, I refuse to rely on select go-to merchants. I prefer to stroll through every jam-packed dusty stall, thoroughly unearthing amazing hidden treasures. I have a purchasing method many may view as tedious. However, I respect and am engrossed in the entire, sometimes overwhelming process. 
I visit periodically, focusing on one of a kind and limited edition pieces. My objective is to choose items that will blend seamlessly with antiques. Over the years, I have cultivated ongoing relationships with some of the dealers, and I have an unspoken special bond with the only female merchant on the street - Dewi "The Goddess."
As I enter her Kios, she greets me with a welcoming smile. Immediately I see a stack of 18th century Dutch Colonial trunks. Although they are heavy and cumbersome, I request to take them outside to inspect in the light. I open the lids and am shocked and thrilled at what she is storing inside: an extensive assortment of antique and vintage ceremonial skirts from Lampung, South Sumatra! I delicately remove each piece and meticulously examine the quality making three piles: yes, no, and maybe. Oddly, this is my first time buying from Dewi!
It is 2:00 pm, and Dewi always eats at noon sharp. I suggest she go to lunch, but she insists on staying with me. We finally agree that while she is away, I will walk through the nearby shops promising to continue when she returns. The break allows me to clear my head and glimpse at what is ahead for tomorrow.
Eager to continue, she comes back quickly. I prefer to hunt longer before finalizing my selection; however, I keep my commitment. We work for three-plus more hours. Once complete, I leave Dewi beaming with joy. I, too, am ecstatic as I imagine creating an exquisite luxury pillow collection.
Antique Embroidered Ceremonial Skirt: Gold Metallic Thread

Traditional Embroidered Ceremonial Skirt: Gold Metallic Thread
Antique Embroidered Ceremonial Skirt: Gold Metallic Thread
 
How many days do I spend searching the market on Jalan Surabaya? It is impossible to answer this question. It depends on what products I discover as I rummage through the stalls and engage with colorful personalities along the way. As for Dewi? I keep a special place in my heart for her - always remembering her warm, welcoming, and, yes, contagious smile.
Debra Levine